In-depth training: Times Tables Teaching
This course provides an opportunity to discuss and learn about the research, pedagogy and principles behind systematic times tables teaching, and will help you to get the most out of the Times Tables Fluency programme. Cost is £95 + vat per person. Open to teachers/TAs at subscribing schools.
"Really enjoying this training, thank you. I like how accessible the resources are and how much time it will save teachers as they will not have to be made by scratch." Corpus Christi Primary School
"Your explanations have really helped me consider how to sell this to the teachers at my school.  I have to admit to being pretty excited about it." Ashford Park Primary School
The course is suitable for any teachers or TAs using the Times Tables Fluency programme, as well as maths subject leads and other school leaders. All individuals attending must be at a school that subscribes to the programme.
The course will cover both the background and principles of the programme as well as the practicalities of getting up and running with the programme in school. Topics covered will include:
Essential times tables facts and multiplicative concepts (Stages 1, 2 and 3)

Additional facts and preparation for the multiplication tables check (Stage 4)

Maintaining fluency and extending concepts in Years 5 and 6 (Stage 5)

Planning using the Times Tables Fluency programme

The 5 step teaching approach, including

Structure and pedagogy of a times tables fluency session

Identifying and delivering targeted support
The course is run over two mornings with a short gap task set between the two sessions. There is time built in to make sure all your questions are answered.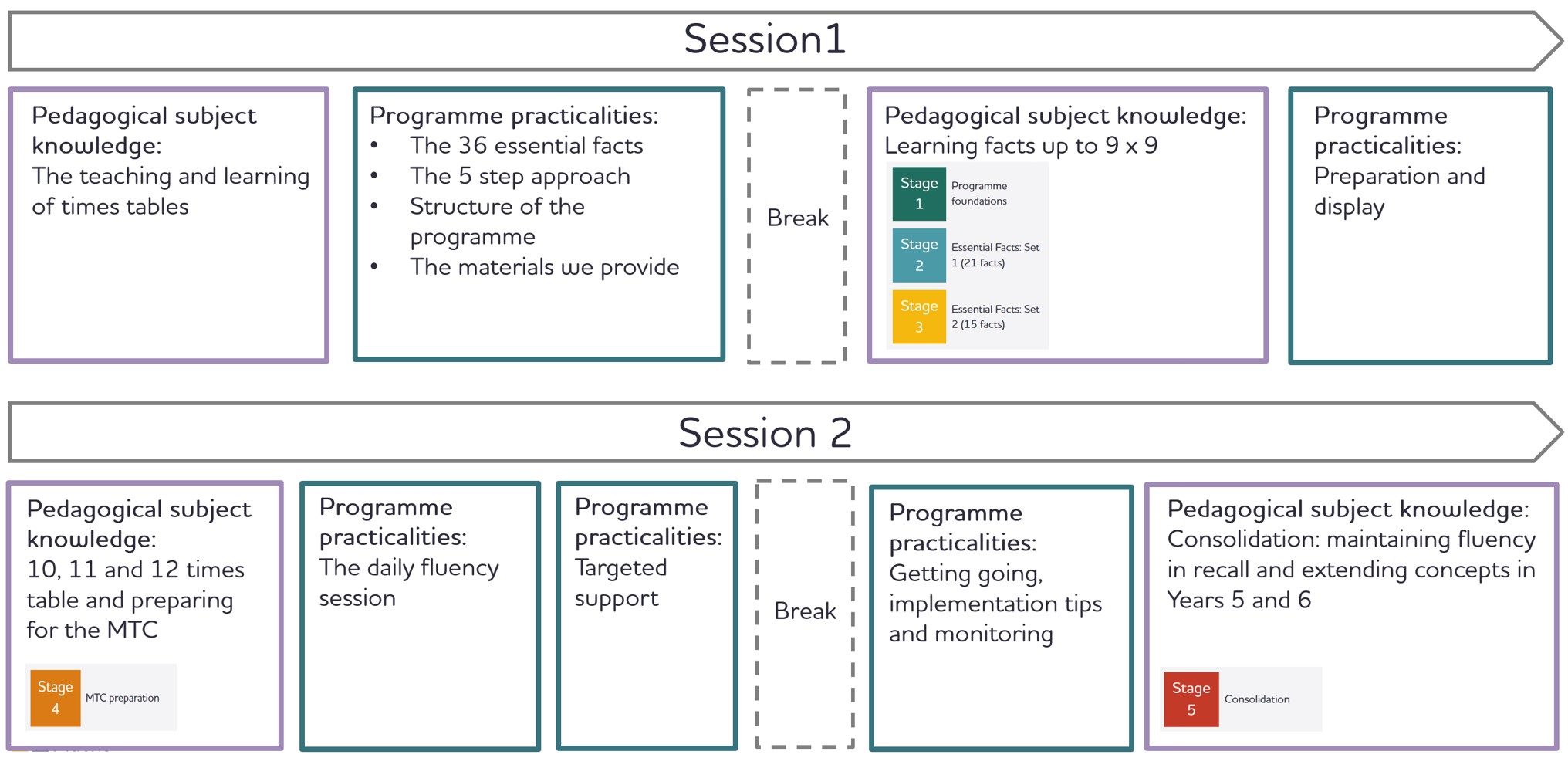 The Times Tables Teaching in-depth course is run six times year (twice every long term), on either Tuesday or Thursday mornings. The course modules are spread across two mornings, with all sessions held over zoom.